Finally , most awaited Global Investor Summit of Assam called as Advantage Assam starts today. 'Advantage Assam'- the Assam Global Investors' Summit scheduled on 03 & 04 February 2018, is the largest ever investment promotion and facilitation initiative by the Government of Assam. The Summit aims at highlighting the state's geostrategic advantages offered to investors by Assam. The event shall showcase the manufacturing power and the opportunities offered by the state of Assam in terms of export-oriented manufacturing and services to growing economies viz. ASEAN and BBN countries.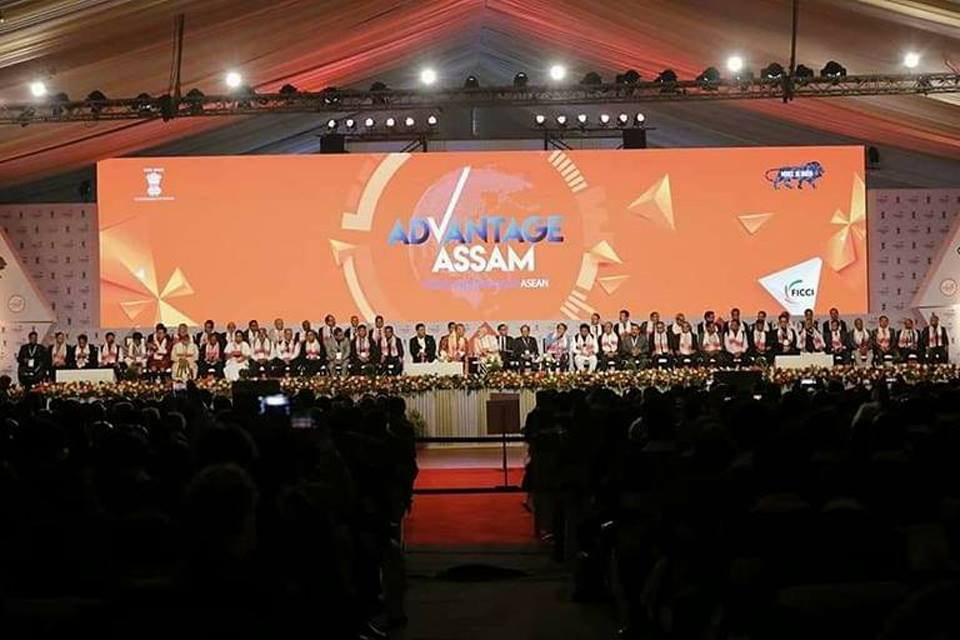 Focus Sectors in Advantage Assam – 2018
Following sectors will be highlighted mostly in Advantage Assam Summit 2018.




1/ INLAND WATER TRANSPORT
2/ CIVIL AVIATION
3/ PETROLEUM AND NATURAL GAS
4/ HANDLOOM, TEXTILES ANDHANDICRAFTS
5/BAMBOO
6/ OTHER FOCUS AREAS(Industry related sectors)
7/ Information Technology
IT Park at Guwahati
Electronics Manufacturing Cluster, Guwahati
IT Park at Dibrugarh
IT Park at Silchar
Business Process Outsourcing Centre – Silchar
Business Process Outsourcing Centre – Dibrugarh
Rural BPO
State Wide Connectivity (IT)
Assam State Data Centre
IT Start-up Incubation Centre
8/ Tourism
9/ AGRICULTURE & FOOD PROCESSING
Advantage Assam- Venue :
Sarusajai,
Guwahati
Assam – 781040
Major Delegates of the Advantage Assam

Event

 2018
Around 4,500 delegates have already registered for partitipation in Advantage Assam Event from 16 countries. Following are the key people who will present in Advantage Assam.




1./ Mr. Narendra Modi – Hon'ble Prime Minister of India
2/Sarbananda Sonowal – Assam Chief Minister
3/ Tshering Tobgay – Hon'ble Prime Minister of Bhutan
4/ Mukesh Ambani – Chaiman, Reliance Industries Limited (RIL)
5/ Ratan Tata -former chairman of Tata Group
6/Several Union ministers- Nitin Gadkari, Suresh Prabhu, Ravi Shankar Prasad, Smriti Irani, Dharmendra Pradhan, Jitendra Singh, Kiren Rijiju
7/ Bangladesh Industry Minister Amir Hossain Amu,
8/ Cambodian Tourism Minister Thong Khon,
9/Myanmar Commerce Minister Than Myint,
10/ Lao PDR's Vice Minister of Information Culture and Tourism Ounethoang Khaophanh
11/ Ambassadors, High Commissioners and business delegations from 16 countries such as the USA, Vietnam, the UAE, the Netherlands, Nepal, Korea, Japan, Israel, Indonesia, Germany, Czech Republic and Canada
12/ Dilip Shanghvi of the Sun Pharmaceuticals,
13/ Anand Burman of the Dabur,
14/ Subhash Chandra of the Essel Group
15/ Acharya Balkrishna – Patanjali CEO 
Advantage Assam Benefits / Job Opportunities : 
i) It will help to  showcase the business potential and investment opportunities in the state (Assam).
ii) The Government delegates also meet the Industry champions for various discussions which might lead to better scope of expansion of their business and investment in Assam.
iii) Advantage Assam will  definitely bring  job opportunities in various sectors for Assamese educated unemployed youths.
iv) Around 160 memorandum of understanding (MoU)  will be signed at 5 PM on this Advantage Assam Event worth of  Rs.  60,000 Crore
Important Event Timings – Advantage Assam 2018
On 3rd February
** 08:00 hrs – 10:00 hrs – Registration (No on spot registration)
** 10:15 hrs – 10:25 hrs – Visit to Exhibition hangar of Advantage Assam Global Investors Summit
** 10:30 hrs – 12:55 hrs – Inauguration of Summit by Hon'ble Prime Minister at Plenary Hall
** Parallel Thematic Sessions
14:30 hrs – 16:00 hrs Session 1: Agriculture & Food Processing Session 2: Plastic & Petrochemicals Session 3: Innovation and Startup Session 4: Power Country Session: Japan