Hello dear Job seekers. In this article we have mentioned Current Affairs and happenings of January 2020 in various fields. These are very important for your Job recruitment exams. This is the part 1 of January month's Current affairs. We shall publish more article like this in our future posts. So we suggest everyone to visit our site Assam Career regularly.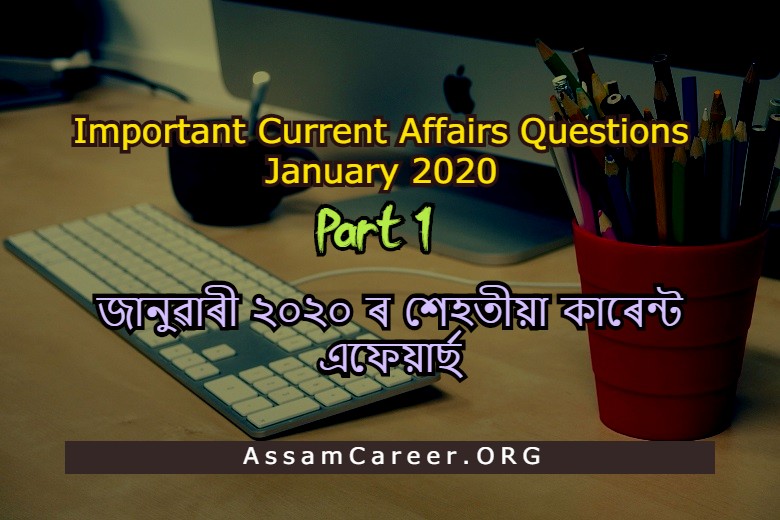 জানুৱাৰী ২০২০ ৰ শেহতীয়া কাৰেন্ট এফেয়াৰ্ছ ৰ ভাগ ১ তলত উল্লেখ কৰা হ'ল
Q1. Which Indian state has topped the Sustainable Development Goal index for 19-20 ?
A. Kerala
B. Assam
C. Goa
D. Karnataka
Q2. Who has been named as the Most Famous Teenager in the World by the United Nations ?
A. Bobby Brown
B. Malala Yousafzai
C. Greta Thunberg
D. Payal Jangid
Q3. Which state Government has launched 'Cyber Safe Women' Initiative ?
A. Delhi
B. Maharashtra
C. Gujraat
D. Andhra Pradesh
Q4. PM Narendra Modi recently inaugurated five Young Scientists Labs for Which Organization ?
A. ISRO
B. IAF
C. DRDO
D. Indian Navy
Q5. 'Journalist Day' was Celebrated on 6th of January Every Year in which state ?
A. Himachal Pradesh
B. Assam
C.West Bengal
D. Maharashtra
Q6. The 12th edition of Bilateral Maritime Exercise ' Naseem Al Bahr' Will be Conducted Between India and which country ?
A. China
B. Japan
C. Oman
D. Sri Lanka
Q7. Vikram Sarabhai Children Innovation Centre will be Set up in which Indian State?
A. Gujraat
B. Karnataka
C. Tamil Nadu
D. Telengana
Also Check Other Job Vacancies in Assam October 2020
Jobs by Organization
Last Date
Apply Link
FCI Recruitment 2021 (Mar) - 89 Assistant General Manager And Medical Officer Vacancy
31st March 2021
Click Here
Border Roads Organization Recruitment 2021(Mar) - 459 Vacancy
April 2021
Click Here
Forest Survey Of India Recruitment 2021(Mar) - 44 Technical Associate Vacancy
19th March 2021
Click Here
Sports Authority Of India Recruitment 2021 (Mar) - 47 Junior Consultant Vacancy
18.03.2021
Click Here
NTPC Engineer & Chemist Recruitment 2021 (Feb) - Apply Online For 230 Vacancy
10-03-2021
Click Here
UPSC Civil Services (Pre) Examination 2021 (Mar) – 712 Vacancy
24-03-2021
Click Here


Q8. On which day, World Hindi Day is Celebrated ?
A. 09 January
B. 05 January
C. 10 January
D. 11 January
Q9. Which team has Won 7 TH National Ice Hockey Championship Women Trophy?
A. Delhi
B. Ladakh
C. Chandigarh
D. Maharashtra
Q10. Which Indian Origin person was recently Appointed as the Judge of Chicago?
A. Hari Mohan
B. Sarabjeet Kaur
C. Zoran Milanovic
D. Samiya Naseem
Q11. Which country has hosted 5th Asia Pacific drosophila research conference?
A. Nepal
B. USA
C. India
D. Japan
Q12. Manmad and Bhusawal railway Stations where AI based facial Recognition technology was recently installed belongs to which Indian state?
A. Tripura
B. Maharashtra
C. Karnataka
D. Uttar Pradesh
Q13. Who has become the new Sultan of Oman ?
A. Esmial Qaani
B. Haytham Bin Tariq
C. Qassem Soleimani
D. Qaboos Bin Sayed
Q14. Recently, India has Signed 15 MoU Including Cyber Security with Which Country?
A. Brazil
B. Japan
C. USA
D. China
Q15. Which Ministry Tied up with Bill and Melinda Gates Foundation ?
A. Ministry of Jal Shakti
B. Minister of Child and Women Development
C. Ministry of Science and Technology
D. Ministry of Rural Development
Answers : 
1.A
2. B
3. B
4. C
5. D
6. C
7. A
8. C
9. B
10. D
11. C
12. B
13. B
14. A
15. D
We will update the post by adding more questions in future revisions. If you have any doubt please comment down below. We will try to help you with your queries. For more Jobs & Current Affairs daily visit AssamCareer.ORG
**Share the post with your best buddies..Spread the Love..
**Sharing is Caring **


অনুগ্ৰহ কৰি ফেসবুক আৰু হোৱাট্স এপত SHARE কৰিব