DHS Assam Grade-IV Document Verification New Schedule [Date, Venue & Time] :
Director of Health Services, Assam has published a notification regarding new date time & vanue for the Grade IV Post. . It is for information of all concerned that, the verification of documents for provisionally selected candidates for the posts of Grade-IV will commence from 27.05.2020 in different venues at Guwahati.
We welcome everyone to Assam's Number 1 Job Portal AssamCareer.org. For Latest Government Jobs,  Private Company Jobs, Exam admit cards, Results news and Updates Daily Visit  Job In Assam Career .
Name of the Post – Grade IV
No Of The Post – 452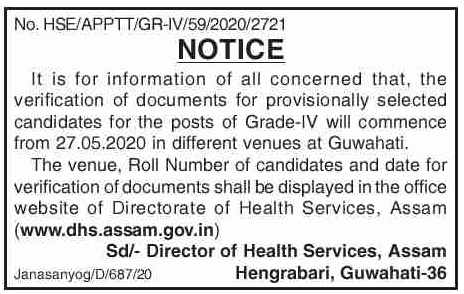 The venue, Roll Number of candidates and date for verification of documents shall be displayed in the office website of Directorate of Health Services, Assam (www.dhs.assam.gov.in)
Check your schedule  – here
**Share the post with your best buddies..Spread the Love..
**Sharing is Caring **
Also Check Other Job Vacancies in Assam October 2020
Jobs by Organization
Last Date
Apply Link
FCI Recruitment 2021 (Mar) - 89 Assistant General Manager And Medical Officer Vacancy
31st March 2021
Click Here
Border Roads Organization Recruitment 2021(Mar) - 459 Vacancy
April 2021
Click Here
Forest Survey Of India Recruitment 2021(Mar) - 44 Technical Associate Vacancy
19th March 2021
Click Here
Sports Authority Of India Recruitment 2021 (Mar) - 47 Junior Consultant Vacancy
18.03.2021
Click Here
NTPC Engineer & Chemist Recruitment 2021 (Feb) - Apply Online For 230 Vacancy
10-03-2021
Click Here
UPSC Civil Services (Pre) Examination 2021 (Mar) – 712 Vacancy
24-03-2021
Click Here




অনুগ্ৰহ কৰি ফেসবুক আৰু হোৱাট্স এপত SHARE কৰিব