You probably remembered that in our earlier post we have mentioned about the details of Assam State Rural Livelihood Mission[ASRLMS] Recruitment 2017 for filling up the posts of  Block Coordinator, Project Manager- Procurement & Finance (Skills), District Project Manager, District Functional Expert (SM, IB & CB), District Functional Expert (Livelihoods & Marketing), District Functional Expert (FI), District Functional Expert (Skills), District MIS Manager, District Accounts Manager, Block Project Manager, MIS Assistant cum Accountant. You can refer to that advertisement through this link. Here in this post we will be showing you how to download ASRLMS admit card 2017  .
About the Written Exam and Admit card for ASRLMS recruitment 2017
ASRLMS Written examination for recruitment of professionals in Assam State Rural Livelihoods Mission as per advertisement dated 14th September, 2017 will be held on 4th, 5th, 12th & 19th November, 2017. Venue with timings and other necessary details are  mentioned in the Admit Card.
How to Download Admit card for ASRLMS Written examination 2017




Admit Cards will be available for download  in the ASRLMS website http://asrlms.com on 24th October, 2017. Candidates will have to download their individual Admit Cards from the website. No query on admit cards shall be entertained after 5:00 pm on 04/11/2017.
CLICK here to Download the admit card for ASRLMS Recruitment 2017
Instructions :
1/  After Clicking the above link a page will be opened like below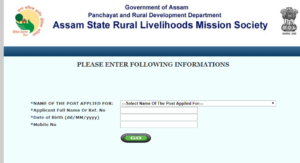 2/ Now you have to fill all 4 mandatory options correctly.
3/ First choose the post you appied for .
4/ Then you put your full name or Ref. no of your application. [ Either one]
5/ After that put your Date of birth.
6/Finally put your Mobile No. and click go.
7/ You should be able to download your ASRLMS Exam admit card.