Hello everyone. Welcome to Assam Career. Today we will provide you a list of Important General Knowledge (GK) & Current Affairs questions which will be based on Award & Honours of 2019. We have also provided the answers at the end of the article.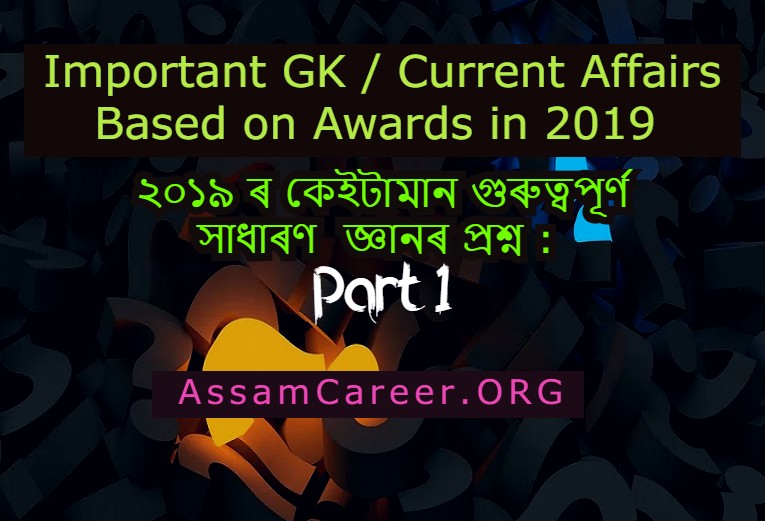 ২০১৯ ৰ কেইটামান গুৰুত্ৱপূৰ্ণ সাধাৰণ  জ্ঞানৰ প্ৰশ্ন : 
Q1. Who received the Nobel Peace Award in 2019 (শান্তিৰ ন'বেল বটা ) ?
A. K. Sivan
B. Narendra Modi
C. Abiy Ahmed Ali (Ethiopia PM)
D. Donald Trump
Q2. Who honoured with Vir Chakra Award 2019?
A. Bipin Rawat
B. Karambir Sahh
C. Abhinandan Varthaman
D. Shakti Kant Das
Q3. Who received the Bharat Ratna Award in 2019 ?
A. Pranab Mukherjee
B. Bhupen Hazarika
C. Nanaji Deshmukh
D. All of the above
Q4. Who received the Rajiv Gandhi Khel Ratna Award 2019?
A. Bajrang Punia
B. Deepa Malik
C. Both A and B
D. Virat Kohli
Q5. Who received the Croatia's Highest Civilian Award – the
Grand Order of the king of Tomislav ?
A. Narendra Modi
B. Robert Vadra
C. Bipin Rawat
D. Ramnath Kovind
Q6. Who received Ramon Magsaysay Award 2019 ?
A. Rajat Sharma
B. Sudhir Choudhury
C. Arnab Goswami
D. Ravish Kumar
Also Check Other Job Vacancies in Assam October 2020
Jobs by Organization
Last Date
Apply Link
FCI Recruitment 2021 (Mar) - 89 Assistant General Manager And Medical Officer Vacancy
31st March 2021
Click Here
Border Roads Organization Recruitment 2021(Mar) - 459 Vacancy
April 2021
Click Here
Forest Survey Of India Recruitment 2021(Mar) - 44 Technical Associate Vacancy
19th March 2021
Click Here
Sports Authority Of India Recruitment 2021 (Mar) - 47 Junior Consultant Vacancy
18.03.2021
Click Here
NTPC Engineer & Chemist Recruitment 2021 (Feb) - Apply Online For 230 Vacancy
10-03-2021
Click Here
UPSC Civil Services (Pre) Examination 2021 (Mar) – 712 Vacancy
24-03-2021
Click Here


Q7. Who won the Femina Miss India Award 2019 ?
A. Riya Jain
B. Aditi Tiwari
C. Suman Rao
D. Shristi Sarma
Q8. Who won the best actor award in 66th National Film Awards ?
A. Ranveer Singh
B. Vicky Kaushal
C. Ayushman Khurrana
D. Both B & C
Q9. Who won the best actress award in 66th National Film Awards ?
A. Alia Bhatt
B. Keerthy Suresh
C. Priyanka Chopra
D. Deepika Padukone
Q10. Who received First ever Football Ratna Award ?
A. Gurpreet Singh
B. Baichung Bhutia
C. Sunil Chhetri
D. None of these
Q11. Which film won the best Hindi Film award in 66th National Film Award ?
A. URI
B. Padman
C. Toilet
D. Andhadhoon
Q12. Who won the Man Booker International Prize in 2019?
A. William Cook
B. Mohan Sharma
C. Jokha Alharthi
D. Tom Brady
Q13. Who received the Global Goalkeeper Award 2019 by the Bill and Melinda Gates foundation?
A. Donald Trump
B. K Sivan
C. Pranab Mukherjee
D. Narendra Modi
Q14. Who won the US Education Excellence Award 2019 ?
A. K Sivan
B. Rajat Thakur
C. Anand Kumar
D. Amit Narang
Q15. Name the Indian who got the Nobel Prize in Economics in 2019?
A. Abhijit Banerjee
B. Abhinav Kumar
C. Manmohan Singh
D. Raghuram Rajan
Q16. Who honoured with Dadasaheb Phalke Award 2019?
A. Amitabh Bachhan
B. Vinod Khanna
C. Dilip Kumar
D. Jitendra
Answers : 
C
C
D
B
D
D
C
D
B
C
D
C
D
C
A
A
If you have any doubt please comment down below. We will try to help you with your queries. For more Jobs & Current Affairs daily visit AssamCareer.ORG
**Share the post with your best buddies..Spread the Love..
**Sharing is Caring **


অনুগ্ৰহ কৰি ফেসবুক আৰু হোৱাট্স এপত SHARE কৰিব