Hello everyone. Welcome to Assam Career. Today we will provide you a list of Important General Knowledge (GK) & Current Affairs questions which will be based on Award & Honours of 2019. We have also provided the answers at the end of the article.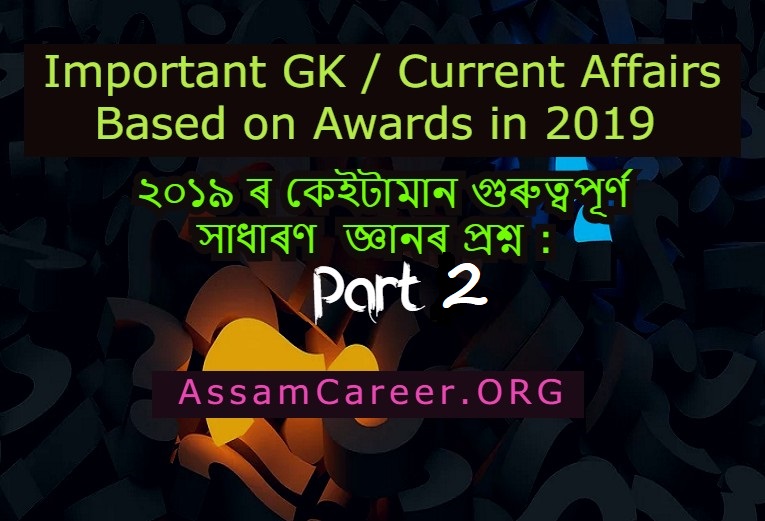 ২০১৯ ৰ কেইটামান গুৰুত্ৱপূৰ্ণ সাধাৰণ  জ্ঞানৰ প্ৰশ্ন : 
1/Who won the 2019 ICC's Cricketer of The Year Award?
A. Virat Kohli
B. Ben Stokes
C. Rohit Sharma
D. Pat Cummins
2/Who received the Merck Young Scientist Award 2019?
A. C. N. R. Rao
B. Yamuna Krishnan
C. Ritu Karidhal
D. Sakya Singha Sen
3/Who has been adjudged 'Coorg Person of the Year, 2019'?
A. A.S. Bopanna
B. Aniruddha Bose
C. Surya Kant
D. R. Banumathi
Also Check Other Job Vacancies in Assam October 2020
Jobs by Organization
Last Date
Apply Link
FCI Recruitment 2021 (Mar) - 89 Assistant General Manager And Medical Officer Vacancy
31st March 2021
Click Here
Border Roads Organization Recruitment 2021(Mar) - 459 Vacancy
April 2021
Click Here
Forest Survey Of India Recruitment 2021(Mar) - 44 Technical Associate Vacancy
19th March 2021
Click Here
Sports Authority Of India Recruitment 2021 (Mar) - 47 Junior Consultant Vacancy
18.03.2021
Click Here
NTPC Engineer & Chemist Recruitment 2021 (Feb) - Apply Online For 230 Vacancy
10-03-2021
Click Here
UPSC Civil Services (Pre) Examination 2021 (Mar) – 712 Vacancy
24-03-2021
Click Here


4/Who recently won 2019 Harivarasanam award?
A. A. R. Rahman
B. S. Janaki
C. K. J. Yesudas
D. Ilaiyaraja
5/Which business tycoon emerged as India's most searched business tycoon on Google in 2019?
A. Neerav Modi
B. Ratan Tata
C. Anil Ambani
D. Adi Godrej
6/Which company has been awarded the General Insurance Company of the Year 2019?
A. LIC
B. GIC
C. HDFC
D. NIACL
7/Who received the SASTRA-Ramanujan Award-2019?
A. Eevin Kalis
B. Adam Harper
C. Radha Tyagi
D. Wess Forges
8/Who has won the 2019 Sahitya Akademi Award for the autobiography in Kannada?
A. Dr. Shashi Tharoor
B. Sri Tarun Kanti Mishra
C. Sri Abdul Ahad Hajini
D. Dr. Vijaya
9/Which CBI officer has won the India Cyber Cop of the Year award-2019?
A. Ridhi Sharma
B. Chandresh Tiwari
C. B P Raju
D. Rudish Menon
10/Who won the DSC Prize for South Asian Literature 2019?
A. Rohinton Mistry
B. Amitabha Bagchi
C. Ravinder Singh
D. Jeet Thayil
11/Which state recently received the President Colours award -2019?
A. Haryana
B. Rajasthan
C. Gujarat
D. Punjab
12/Who has been crowned Miss World Asia 2019?
A. Suman Rao
B. Manushi Chhillar
C. Shreya Shanker
D. Vanessa Ponce
13/Which of the following states received the 2019 World Habitat Award?
A. Madhya Pradesh
B. Odisha
C. Tamil Nadu
D. West Bengal
14/Who is to be awarded the Right Livelihood Award 2019 for the fight against climate change?
A. Isra Hirsi
B. Leah Namugerwa
C. Autumn Peltie
D. Greta Thunberg
15/Who is to get the 'Gangadhar National Award' 2019?
A. Gopaldas Neeraj
B. Kumar Vishwas
C. Mohan Rana
D. Viswanath Prasad Tiwari
16/Who won the Miss Universe 2019 title?
A. Demi-Leigh
B. Iris Mittenaere
C. Zozibini Tunzi
D. Catriona Gray
For Part 1 Click Here
Answers –
B
D
A
D
B
B
B
D
C
B
C
A
B
D
D
D
**Share the post with your best buddies..Spread the Love..
**Sharing is Caring **


অনুগ্ৰহ কৰি ফেসবুক আৰু হোৱাট্স এপত SHARE কৰিব